Home Life – HOUSE 2016 Film Programme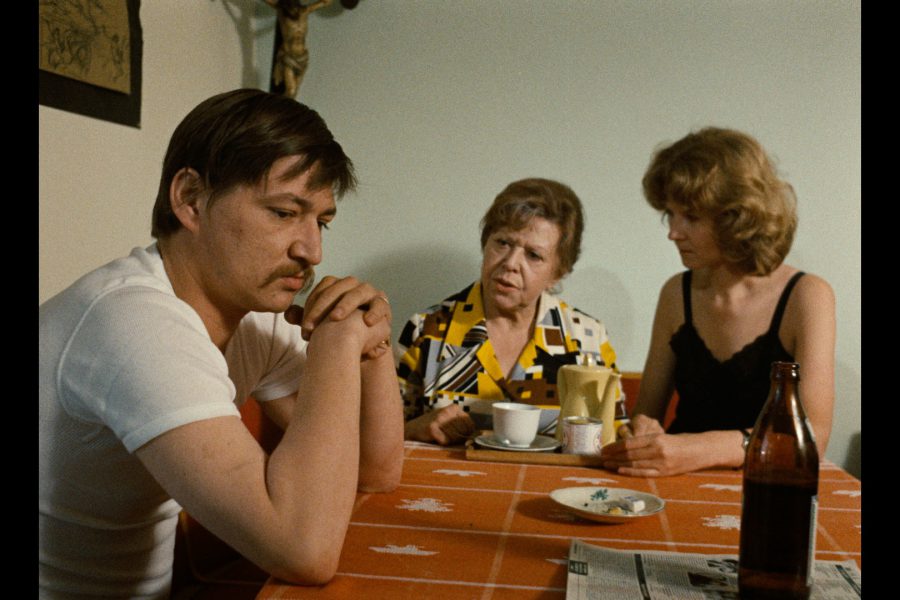 Films selected by Gillian Wearing and Carousel artists
For HOUSE 2016, Invited Artist Gillian Wearing has selected a programme of films based around the theme of Home Life and which make connections with her work.
The four films selected all expose aspects of home and home life, featuring explorations of dwelling places where something is revealed. Connecting thematically to aspects of Wearing's new commission A Room With Your Views, the films bring into focus homes from different areas of the world. By revealing views from the home, the films consider concepts of home both utopian and dystopian, as well as exploring the relationship between the inside and outside; this counter-positioning of interior and exterior being a thematic integral to all four films as well as to Wearing's own work.
On 23rd May, Gillian Wearing and Celia Davies, HOUSE 2016 Curator, will hold an In Conversation, exploring Wearing's choice of films and relationship with her own work.
Accompanying the programme of feature films is a series of shorts that make connections with Wearing's selection, curated by Becky Bruzas and Matthew Hellett of the Oska Bright Film Festival.
Becky says: "The view from my window is a vibrant urban landscape, but some learning disabled people are not so lucky. The films we've selected for HOUSE reflect on how our home lives affect the way we relate to people and places and act on our imagination. We hope you enjoy this window into our world."
Oska Bright
 has been championing learning disabled filmmakers for over 14 years at its Festival and on tour. It is a division of Carousel, an arts company that supports learning disabled artists to develop and manage their creative lives, challenging expectations of what great art is and who can create it. 
www.carousel.org.uk
___________________________________________________
FILM PROGRAMME:
Monday 23rd May 6.30pm
Sallis Benney Theatre
Pre screening:
In Conversation; Gillian Wearing with Celia Davies, HOUSE curator
Carousel  Short:
Goran, Goran Gostojić and Roberto Santaguida, Canada, 2014, 10min
This short film takes an intimate look at the life of Goran Gostojić, a man with learning disabilities from Novi Sad, the second largest city in Serbia – offering a window into his inner life as he discusses his sense of the city and of community, and his hopes of living a regular life despite his differences.
Feature:
Christine, Alan Clarke, UK, 1987, 52 min
CHRISTINE follows a teenage girl as she drifts from house to house in a leafy West London suburb, servicing the needs of fellow school-age heroin addicts. The film is an uncompromising portrayal of a day in the life of a teenage drug addict. The groundbreaking director is known for his radical, and influential work for film and television.
£7 (concessions £6) Group tickets (of over 15 people) £4 pp.
___________________________________________________
Tuesday 24th May 8pm
Duke of York's Picture House
Feature:
Jeanne Dielman, 23, quai du Commerce, 108 Bruxelles, Chantal Akerman, BEL/FR 1975, 201min
Jeanne Dielman, the widowed mother of a teenage son, ekes out a drab, repetitive existence in her tiny Brussels apartment. Jeanne's days are divided between humdrum domestic chores and her job as an occasional prostitute. Akerman was just 25 when she directed the film making it all the more remarkable.
£6 (concessions £5) Group tickets (of over 15 people) £4 pp.
___________________________________________________
Sunday 29th 2pm
Sallis Benney Theatre
Pre screening:
In Conversation; Carousel Artists Becky Bruzas and Matthew Hellett
Carousel Short:
The Sea Reminds Me; Ray Jacobs, Jonathan Tritton, Mervyn Bradley, UK, 2013, 11min
The landscape of coastal Wales is central to this evocative and elegantly paced dance-film about memory and loss.
Feature:
Mirror, Andrei Tarkovsky, Russia, 1975, 108 min
MIRROR is Andrei Tarkovsky's most autobiographical work in which he reflects upon his own childhood and the destiny of the Russian people. The film's many layers intertwine real life and family relationships with memories of childhood, dreams and nightmares.
£6 (concessions £5) Group tickets (of over 15 people) £4 pp.
___________________________________________________
Sunday 29th 5pm
Sallis Benney Theatre
Carousel Shorts:
A Reason to Stay, Adiya imri Orr, Eldar Yusupov, Rona Feldman, Israel, 2011, 15min
Life for Tomer in the plant-filled flat he shares with his mother is tough, especially with the very attractive Dana living down the corridor. This taut drama explores the tensions in a mother/son relationship
Mitra, Shahriar Pourseyedian, Mitra Farazande, Jamile Farazande, Iran, 2011, 9min
A glimpse into the lives of two extraordinary sisters, living on the coast in Iran, dependent on each other for their daily existence, their inner strength and happiness. Mitra is a hauntingly beautiful documentary, full of poetry and celebrating the resilience of the human spirit.
Feature:
Ali – Fear Eats The Soul, Rainer Fassbinder, GER 1974, 94 min
A tentative love affair between a German woman in her mid-sixties and a much younger Morrocan immigrant worker threatens to buckle under the class tensions and racism exposed by their relationship. Fassbinder's classic is a beautifully performed dissection of intolerance and hypocrisy.
Post screening discussion and Q&A
£6 (concessions £5) Group tickets (of over 15 people) £4 pp.